After months of fiddling around, I'm happy to announce the first major update to this emoji font! Included are several animal faces, changes that fix all the ZWJ emoji like 😶‍🌫️, and some very minor color correction!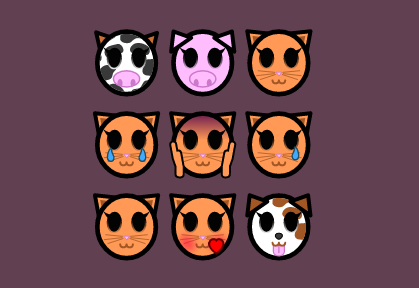 Changes
Added new Cow, Pig, Puppy, and Cat faces! Cat faces contain variations for all Cat Face emoji! (🐮,🐷,🐱,😼,😹,🙀,😾,😿,😻,😺,😸,😽,🐶)
Fixed ZWJ emoji (😶‍🌫️,😵‍💫,😮‍💨)
Added standalone emoji for ZWJ elements (🌫,💫,💨)
Fixed an issue where true black (#000) wasn't displaying properly.
Added a new wallpaper iterating on the original.
Files
Shy Gal Emoji Font (v1.3)
1 MB
Version 1.1.0
Oct 17, 2021