Hello everyone! I hope the solstice is treating you well. Today I am releasing a small update to this emoji font: adding a few special holiday-related emoji, a little easter egg, and putting the whole thing on sale for the rest of the year!
Winter Sale
If you'd like to get this emoji font in this little bundle, you'll get future updates (2 currently planned!), as well as a free copy of FU Chess, my bad chess variant!
The New Emoji
New emoji include a Claus-hatted Shy Gal, covering the current gender options for Clauses in the emoji standard. Mr, Ms, Mrs, Mx, whatever your honorific, it's all the same Shy Gal once the mask goes on!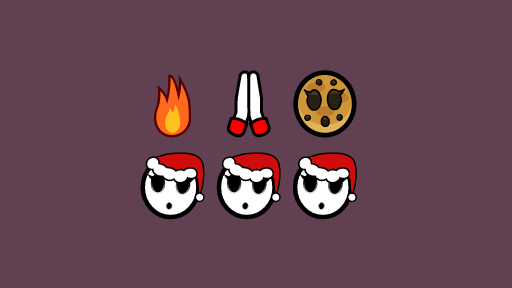 Also included is a fire, for those festive log burnings keeping us warm all winter long, and the Shy Gal's pale hands clasped together, ready to warm them over the fire in the long nights. But perhaps most importantly, there is a tasty Shy Gal cookie included! Was this a Shy Gal who got transformed into a delectable delight? Was this a mere imitation made in its image? Who's to say…
Either way, stay warm this winter! I'll be back some time next year with the next, much bigger release! See you then!

Files
Shy Gal Emoji Font (v1.3)
1 MB